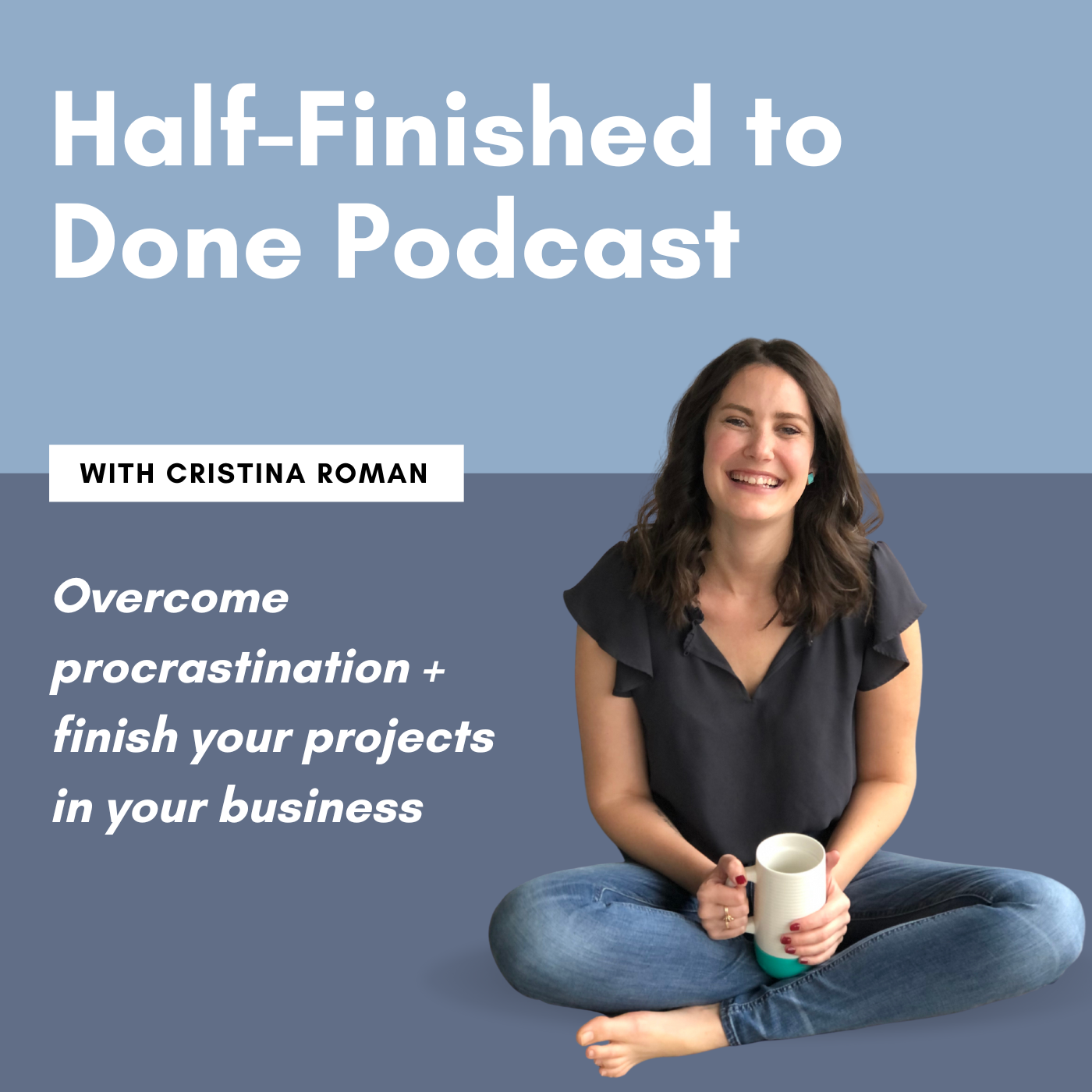 Half-Finished to Done is a podcast for passionate business owners like you, who are ready to stop procrastinating and start creating and finishing extraordinary projects. Join Productivity Coach Cristina Roman weekly as she covers every obstacle—mental, emotional, and logistical—that's keeping you from sustainably, joyfully, and calmly finishing projects in your business. Welcome to your new life as a project finisher!
Episodes
Tuesday Oct 11, 2022
Tuesday Oct 11, 2022
I recently shared on Instagram that I run my business on what I call a "sprint and rest" model— meaning I go heads-down in my business for a focused period, then take a ton of time off. 
This model works well for me because it allows me to work with my natural energy ebbs and flows, vs trying to be "consistent" every day and feeling bad that I'm not.
So in case you needed to hear this: You don't need to be consistent in a traditional sense in order to be successful in business. (From the mouth of a Procrastination Coach.) 
After I posted about sprinting and resting on Instagram, Samantha Hoilett reached out to me to talk about her own decision to shift her business into a sprint and rest model. 
Listen in as we discuss:
Samantha's business and personal reasons for wanting to move into a sprint and rest work style

Embedding healthy, time-bound urgency into your courses or programs

The value of having one core offer for your business

An example of a typical marketing cycle when sprinting and resting 

The value of going for the same goal multiple times, until it becomes easy 

What to take into consideration before establishing an alumnae membership

Non-traditional advice on whether or not you should discount services for repeat clients

How to handle negative opinions from others when you make changes in your business
Samantha Hoilett is a Launch Copywriter and Messaging Strategist for personal brands and small businesses. She takes a customer-oriented approach that focuses on building relationships, highlighting brand values, and helping her clients become leaders in their space so they can sell their offers in a clear magnetic way that attracts ideal clients.
GUEST CONTACT — 
Samantha Hoilett, Launch Copywriter + Messaging Strategist
Instagram: @samanthahoilett.writes
Website: https://samanthahoilett.com/
Email Series: Magnetic Messaging Mondays: When you sign up, you get a surprise "Messaging Mini Guide" that helps you brainstorm messaging ideas for your offer.
MENTIONED IN THE EPISODE —
LET'S GET SOCIAL —
Cristina Roman, Life Coach for Procrastinating Business Owners
Instagram: @piquecoaching
Facebook: @piquecoaching
TikTok: @piquecoaching
Email: hello@piquecoaching.co
Website: https://www.piquecoaching.co