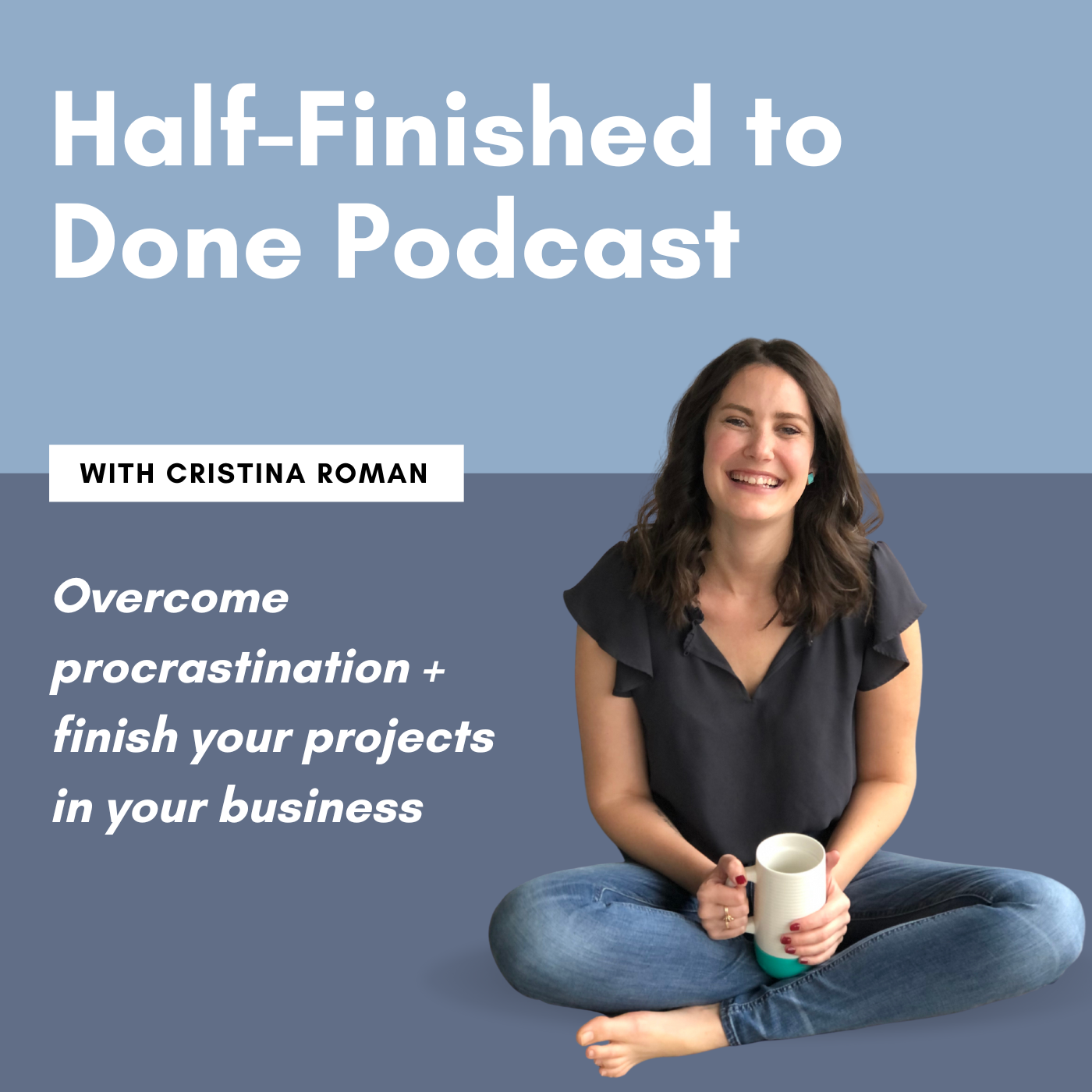 Half-Finished to Done is a podcast for passionate business owners like you, who are ready to stop procrastinating and start creating and finishing extraordinary projects. Join Productivity Coach Cristina Roman weekly as she covers every obstacle—mental, emotional, and logistical—that's keeping you from sustainably, joyfully, and calmly finishing projects in your business. Welcome to your new life as a project finisher!
Episodes
Tuesday Dec 06, 2022
Tuesday Dec 06, 2022
If you've ever put off looking at or dealing with your business numbers because of overwhelm, insecurity, or confusion—this episode is for you.   
In this episode, I'm joined by Keila Hill-Trawick, who runs Little Fish Accounting, a CPA firm for small businesses. Keila helps small businesses thrive through her transparent, easy-to-understand approach to accounting.
In this episode, Keila and I chat about financial procrastination, which happens even with successful business owners. 
Listen in as we discuss:
How anxiety can show up as being hyper-productive in your business

Why rest can feel so intolerable if you're a high-achiever

How the pressure to convey an even-keeled persona creates emotional perfectionism

How to simplify your life to free up more time and energy to focus on your wellbeing

How procrastination around finances shows up in your business

How to self-evaluate your finances by looking at the data, separating it from your own opinion, and then making a calm strategic plan for moving forward

What the most confident and strategic clients of Little Fish Accounting are doing differently

Top beliefs about money and finances that every business owner should have
Little Fish provides compliance and advisory services to professional service providers with tiny teams—including me! They advise freelancers, solopreneurs and small businesses in reaching their financial goals to build and grow the businesses of their dreams.
GUEST CONTACT — 
Keila Hill-Trawick, Owner of Little Fish Accounting
Podcast: Fish Food
Little Fish Accounting Instagram: @littlefishcccounting 
Little Fish Accounting Newsletter 
MENTIONED IN THE EPISODE —
EP. 20 The Oprah Million Dollar Challenge
LET'S GET SOCIAL —
Cristina Roman, Productivity Coach for Business Owners
Instagram: @piquecoaching
Facebook: @piquecoaching
TikTok: @piquecoaching
Email: hello@piquecoaching.co
Website: https://www.piquecoaching.co