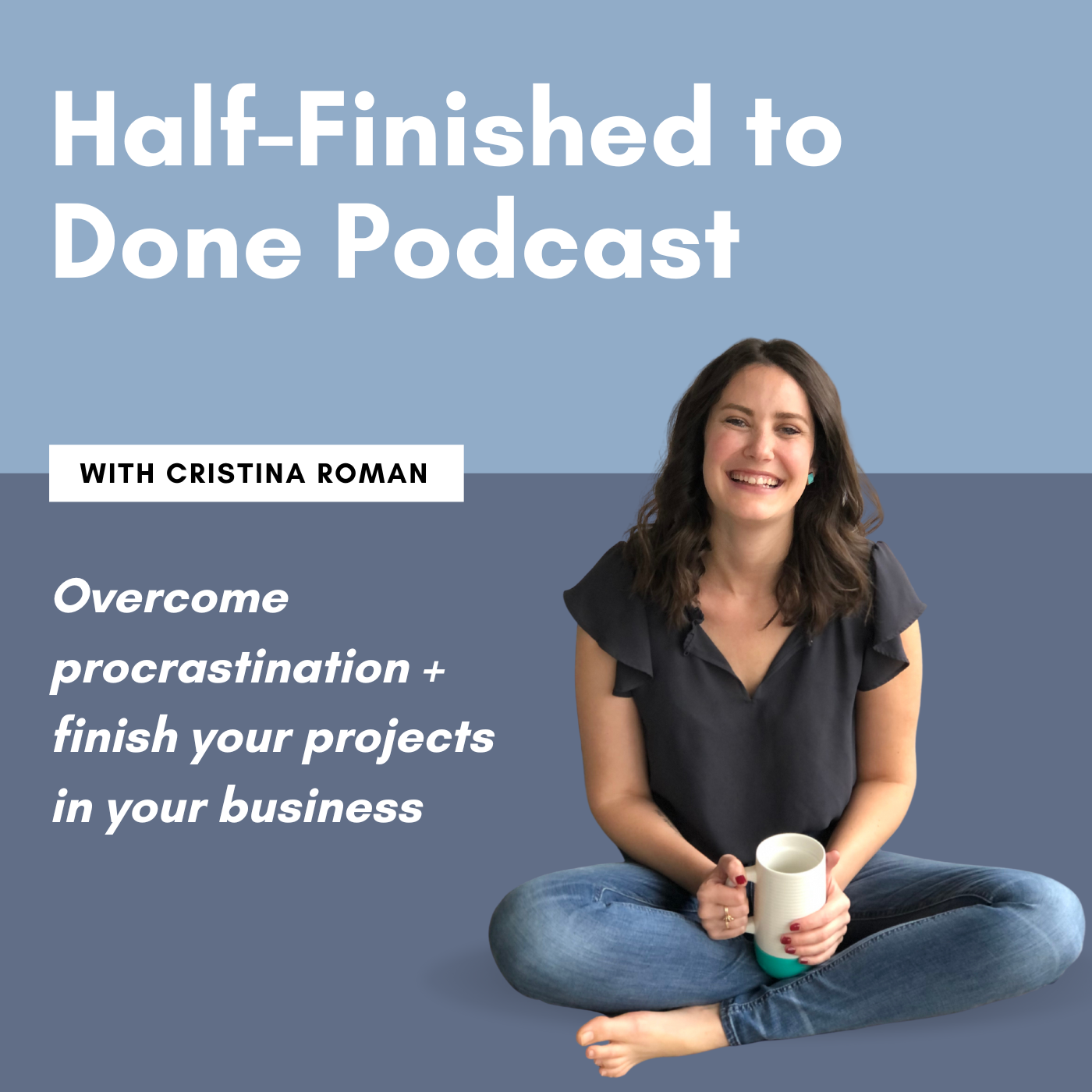 Half-Finished to Done is a podcast for passionate business owners like you, who are ready to stop procrastinating and start creating and finishing extraordinary projects. Join Productivity Coach Cristina Roman weekly as she covers every obstacle—mental, emotional, and logistical—that's keeping you from sustainably, joyfully, and calmly finishing projects in your business. Welcome to your new life as a project finisher!
Episodes
Tuesday Jan 03, 2023
Tuesday Jan 03, 2023
If you've ever considered yourself an overthinker, this episode is for you. 
Our guest on the show today is my former client, Kim Witten. In this episode, she talks about how participating in Half-Finished to Done, LIVE after completing the 5-day Bare Minimum Challenge helped her reduce dread, anxiety, and tinkering in her business. 
She now gets more done in a way that she likes, with less effort and more confidence. 
Listen in as we discuss:
Why Kim decided to join Half-Finished to Done, LIVE

The philosophies that Kim has taken from our work together into her business

The value of self-agreement in your business

What to do when you think that your values are at odds

How Kim has learned to deal with anxiety and dread in her business

The Accomplishment Triad, and Kim's take on this concept

How Kim has used the Bare Minimum Challenge, and the results she's created because of it

Kim's transition from an overthinker to a deep thinker 
Kim is a transformational coach and research consultant, who helps overwhelmed creatives turn their overthinking into expert thinking. Driven by her desire to understand the human experience, she uses insights to help people and organizations adapt to change with intention, confidence, and purpose.
She loves to connect with people and learn about their projects, their pain points, their impossible goals, and whatever else they're thinking about.
GUEST CONTACT — 
Kim Witten, Transformational Coach and Research Consultant
Website: https://www.witten.kim/  
LinkedIn: @kimberly-witten
Newsletter: Hold That Thought
RESOURCES MENTIONED
Half-Finished to Done, LIVE 45-minute consult
Burnout: The Secret to Unlocking the Stress Cycle with Emily Nagoski & Amelia Nagoski
LET'S GET SOCIAL —
Cristina Roman, Productivity Coach for Business Owners
Instagram: @piquecoaching
Facebook: @piquecoaching
TikTok: @piquecoaching
Email: hello@piquecoaching.co
Website: https://www.piquecoaching.co