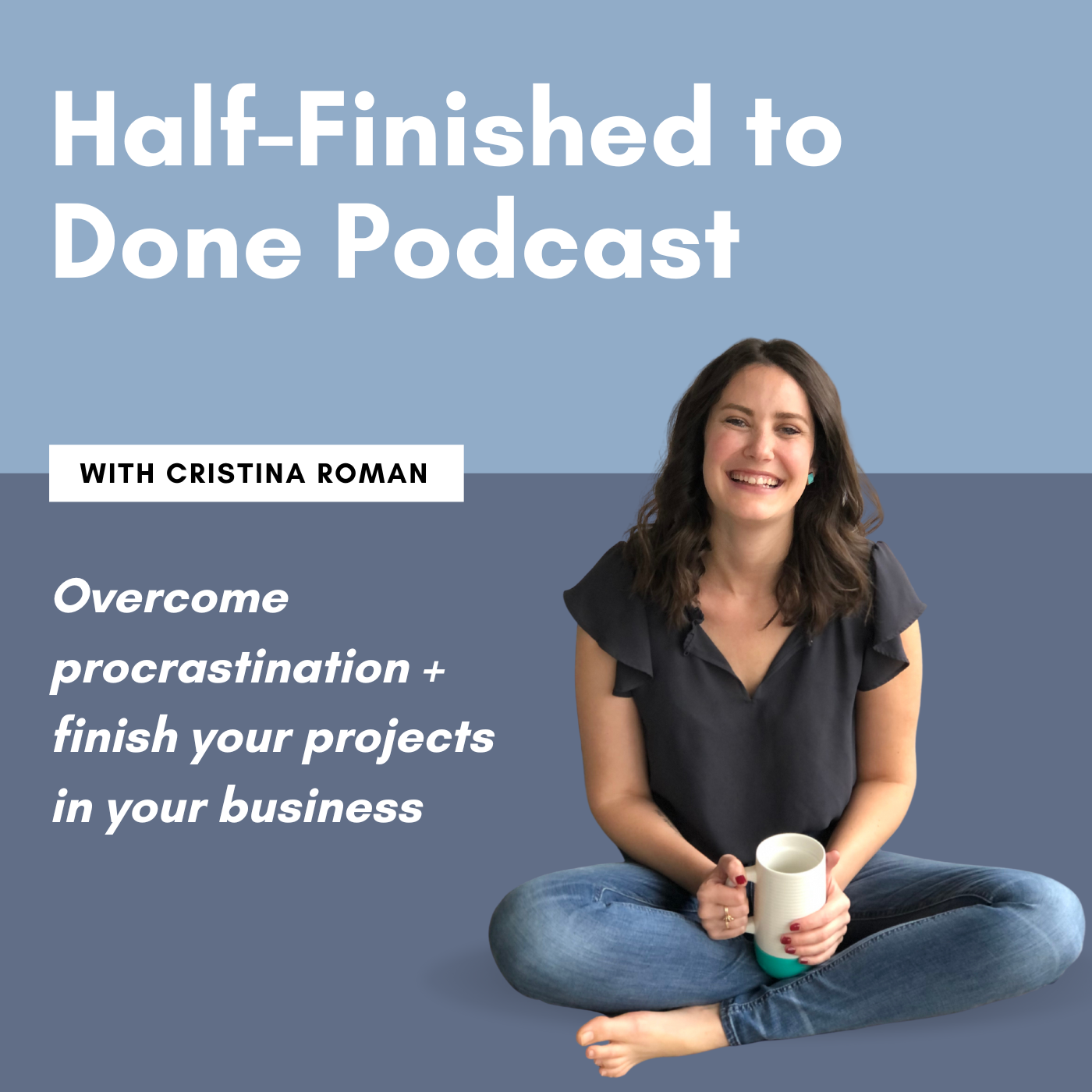 Half-Finished to Done is a podcast for passionate business owners like you, who are ready to stop procrastinating and start creating and finishing extraordinary projects. Join Productivity Coach Cristina Roman weekly as she covers every obstacle—mental, emotional, and logistical—that's keeping you from sustainably, joyfully, and calmly finishing projects in your business. Welcome to your new life as a project finisher!
Episodes
Tuesday Mar 07, 2023
Tuesday Mar 07, 2023
If you've been diagnosed with ADHD, suspect that you might have it, or have someone close to you who is neurodivergent (hint: you probably do!), this episode is for you. 
And if none of this applies to you, listen anyway! Our fast-paced society creates symptoms for people that mimic ADHD, so you'll get something from this episode, no matter what. 
In this episode, I'm joined by Megan Kierstead, a certified coach for forward-thinking badasses with rebel brains. She helps people (especially those who identify as neurodivergent/ADHD) build a career and life unique to their bodies and brains. 
Listen in as we discuss:
What ADHD is, and how it affects the nervous system  The role of motivation in ADHD, and how to influence your motivation 

How to make articulating your emotions and thoughts easier, so that you can start to shift them 

How to make things easier for your Future Self through retrospective reflection and troubleshooting

The concept of play, and the many research-backed benefits of embracing it

Why half-finished projects don't have to be a problem
GUEST CONTACT — 
Megan Kierstead, Life Coach 
Podcast: The Black Sheep Playground  
Website: https://www.megankierstead.com/
Instagram: @megkierstead
Online program: The Black Sheep Playground 
MENTIONED IN THE EPISODE —
The Guide for How to Get Into a Deep Work State in 15 Minutes ($27)
The overlap between behavioral economics + coaching with Nate Andorsky
Play: How it Shapes the Brain, Opens the Imagination, and Invigorates the Soul by Dr. Stuart
LET'S GET SOCIAL —
Cristina Roman, Productivity Coach for Business Owners
Instagram: @piquecoaching
Facebook: @piquecoaching
TikTok: @piquecoaching
Email: hello@piquecoaching.co
Website: https://www.piquecoaching.co