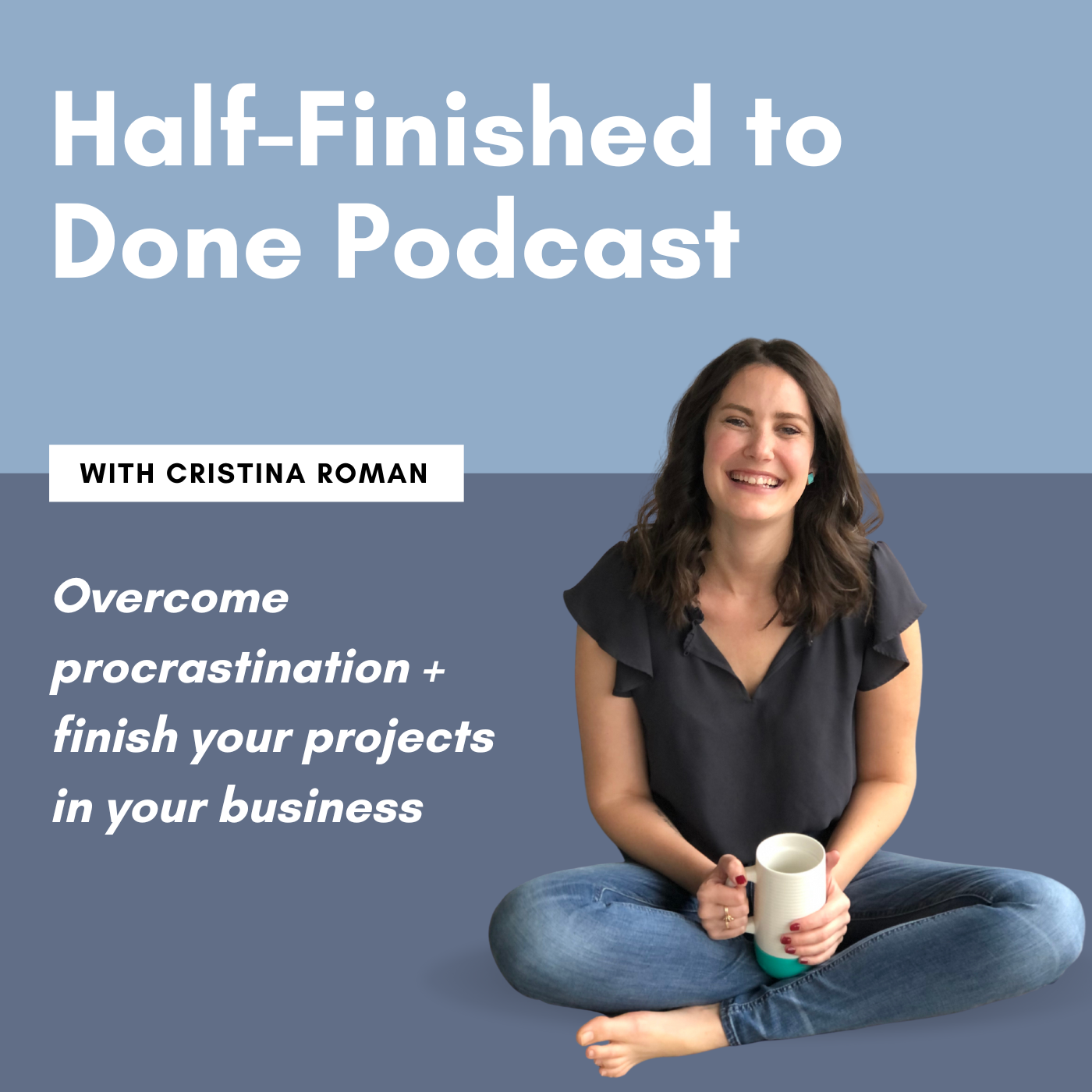 Half-Finished to Done is a podcast for passionate business owners like you, who are ready to stop procrastinating and start creating and finishing extraordinary projects. Join Productivity Coach Cristina Roman weekly as she covers every obstacle—mental, emotional, and logistical—that's keeping you from sustainably, joyfully, and calmly finishing projects in your business. Welcome to your new life as a project finisher!
Episodes
Tuesday Mar 21, 2023
Tuesday Mar 21, 2023
Today's guest is a two-time former client of Half-Finished to Done, LIVE, Samara Potter. 
Samara joined Half-Finished to Done, LIVE after the Monday Hour One 5-Day Challenge helped her plan out her weeks more effectively.  
In this episode, Samara shares how joining the program (twice!) helped her transition from one of the lowest moments of her medical career to feeling more calm, centered, and compassionate toward herself and others.
Listen in as we discuss:
What piqued Samara's interest in the Monday Hour One 5-Day Challenge

Money scarcity, and what might be going on below the surface of not wanting to spend money

Why Samara ultimately decided to invest in

Half-Finished to Done, LIVE

 

How deep work helped Samara become more productive and focused 

Finding more joy in your day by incorporating freedom and flexibility in your schedule  

Samara's power thought about projects 

How to balance your various roles, responsibilities, and hobbies 

The importance of taking time to celebrate the little moments in your life

How Samara adopted the belief "I'm my best investment."
As a pediatric oncologist and life coach, Samara specializes in guiding parents of children with cancer through their child's cancer journey so that they feel more confident, truly capable of feeling empowered, and able to be better parents during the entire process.
GUEST CONTACT — 
Samara Potter, Pediatric Oncologist and Life Coach
Instagram: @kidscancercoach
Facebook: https://www.facebook.com/public/Samara-Potter  
Podcast: Mothering Through Childhood Cancer 
Website: https://www.motheringthrough.com/  
Email: samarapottercoaching@gmail.com
RESOURCES MENTIONED:
The Guide for How to Get Into a Deep Work State in 15 Minutes ($27)
LET'S GET SOCIAL —
Cristina Roman, Productivity Coach for Business Owners
Instagram: @piquecoaching
Facebook: @piquecoaching
TikTok: @piquecoaching
Email: hello@piquecoaching.co
Website: https://www.piquecoaching.co