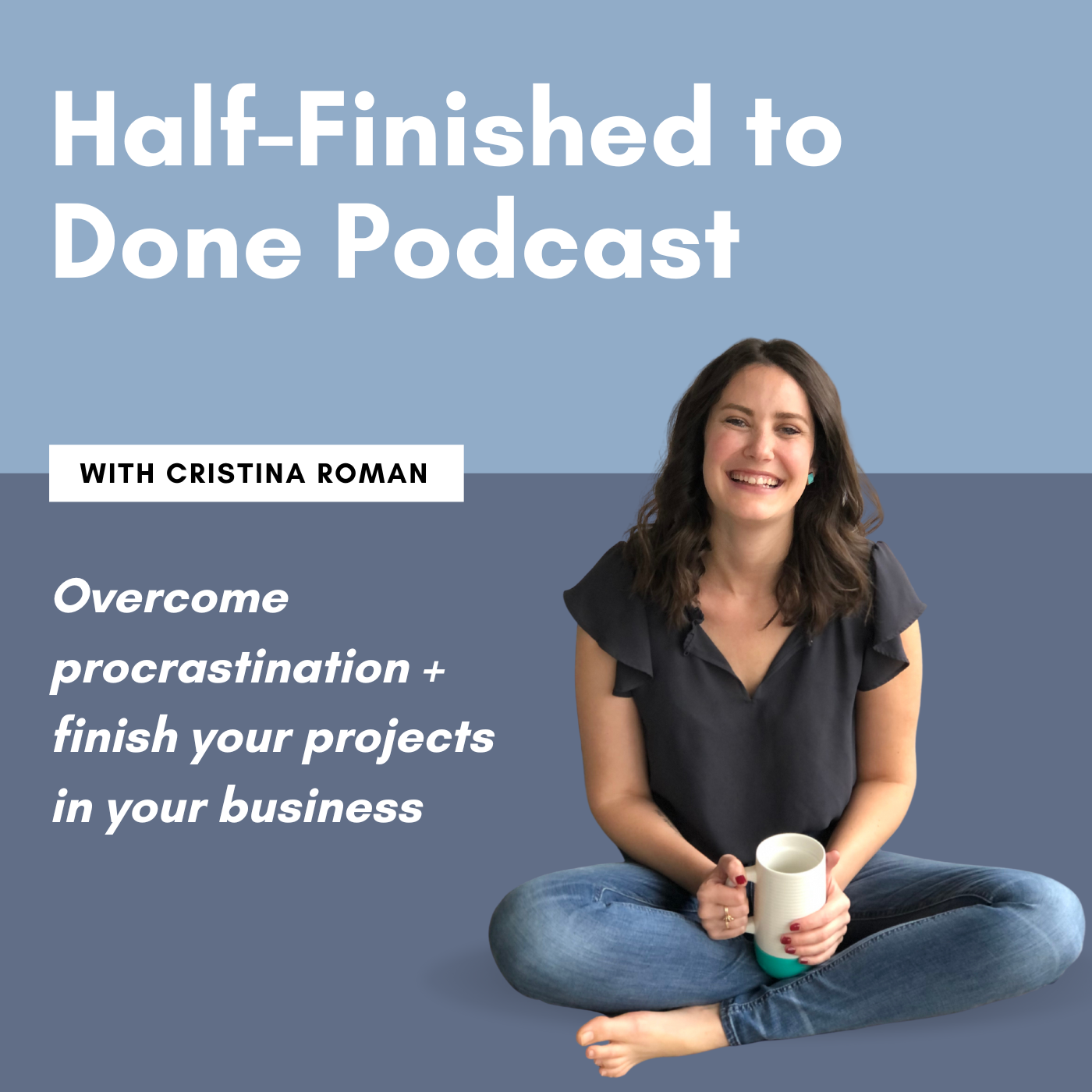 Half-Finished to Done is a podcast for passionate business owners like you, who are ready to stop procrastinating and start creating and finishing extraordinary projects. Join Productivity Coach Cristina Roman weekly as she covers every obstacle—mental, emotional, and logistical—that's keeping you from sustainably, joyfully, and calmly finishing projects in your business. Welcome to your new life as a project finisher!
Episodes
Tuesday May 30, 2023
Tuesday May 30, 2023
Trying to "just do it" when you're feeling intense emotions about a task or project rarely works. 
Fighting against yourself usually leads to more stress, anxiety, and angst.
In this episode, I'm joined by fellow coach Sarah Yost—who I call the "emotions queen"— to talk about why and how to regulate when we're feeling overwhelmed with emotions…and why she never recommends pushing through.
She also shares a profound insight about why joining a coaching program like mine can create more negative emotions, like shame, in the beginning. 
Listen in as we discuss:
How losing your keys, misplacing a phone charger, and not showing up on time are external reflections of internal patterns

Why having a simple action plan can actually exacerbate—instead of alleviate—shame

A study on learned helplessness

Simple ways to get out of fight or flight mode and back to work 
Sarah Yost is an emotions coach for ADHD and neurodivergent people. She'll help you feel way less anxious and way more at home with yourself through understanding, processing and working with your emotions. Find her here. 
MENTIONED IN THE EPISODE —
1:1 Productivity Coaching Consult Call
LET'S GET SOCIAL —
Cristina Roman, Productivity Coach for Business Owners
Instagram: @piquecoaching
Facebook: @piquecoaching
TikTok: @piquecoaching
Email: hello@piquecoaching.co
Website: https://www.piquecoaching.co