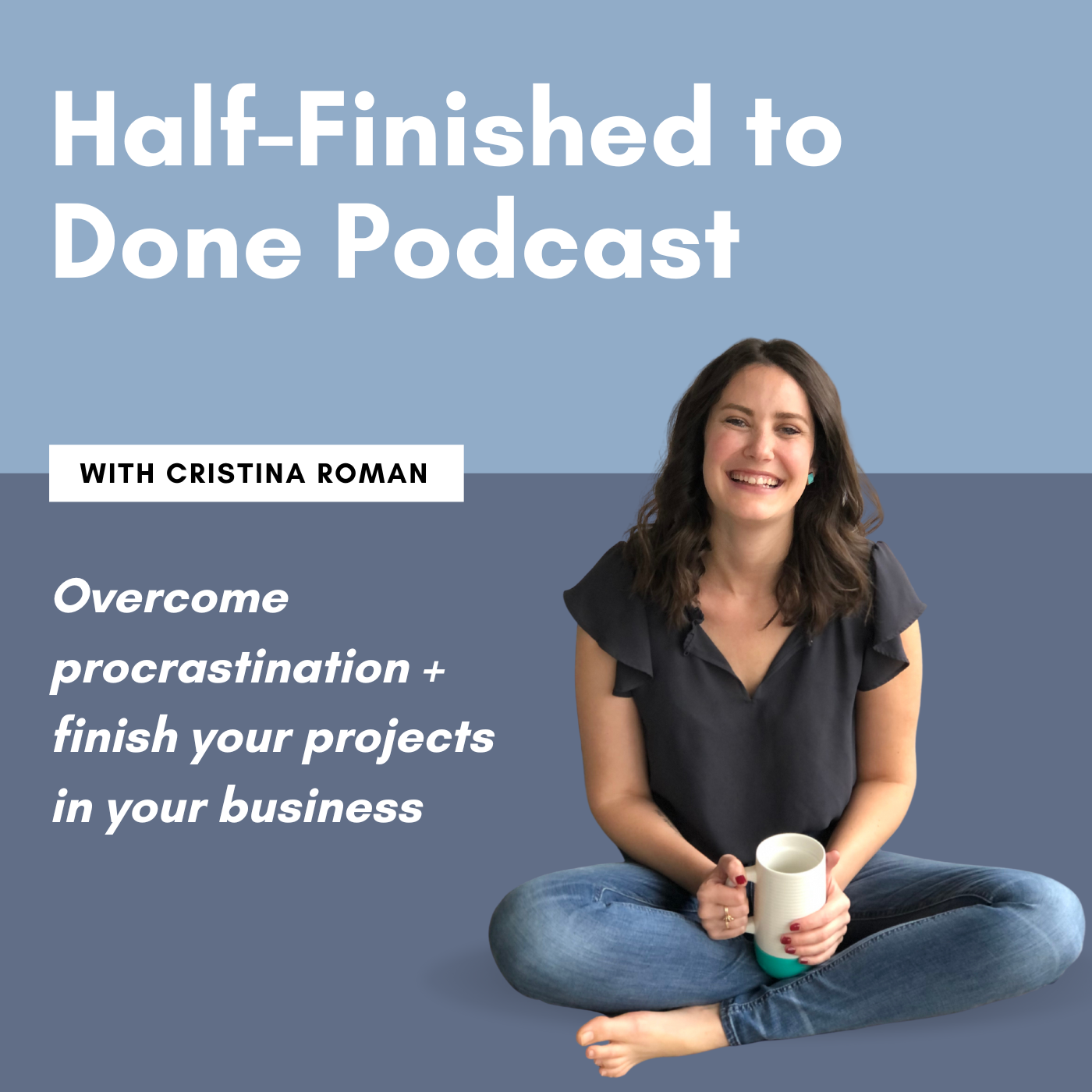 Half-Finished to Done is a podcast for passionate business owners like you, who are ready to stop procrastinating and start creating and finishing extraordinary projects. Join Productivity Coach Cristina Roman weekly as she covers every obstacle—mental, emotional, and logistical—that's keeping you from sustainably, joyfully, and calmly finishing projects in your business. Welcome to your new life as a project finisher!
Episodes
Tuesday Nov 22, 2022
Tuesday Nov 22, 2022
One of the biggest perks of running your own business is the ability to take tons of time off—for vacations and trips, for a mini-sabbatical, to handle a personal issue, or for a parental leave.
And yet—so few business owners take full advantage of this benefit, because we're never taught how to effectively take long chunks of time away from our businesses without them suffering.
In this episode, I'm joined by business coach Kat Arapis to talk about how to set up your business to take time off, while still getting your work done in a way that you love and hitting your goals. 
Kat has first-hand experience with this, from planning her own recent maternity leave, so I knew she'd be the perfect person to chat with on the podcast.
Listen in as we discuss:
Why your goals don't have to suffer because you take a sabbatical from your business 

How to cut out the external noise, so that you can plan a break that works for you

Powerful questions to ask yourself when planning your business breaks 

How to actually put your business break plan into action, then step away from your business

Selecting the best projects to prioritize while on break

How to use automations during your business break

How to take imperfect steps and learn from each experience
Kat Arapis is a Master Business Coach, who teaches entrepreneurs to simplify + master creating never-ending clients so they can scale $100k at a time in less than 20 hours/per week. Without the hustle, pressure, or busy work.
GUEST CONTACT — 
Kat Arapis, Master Business Coach
Instagram: @katarapis
Facebook: https://www.facebook.com/groups/entrepreneursalon
Website: https://www.katarapis.com/ 
Podcast: Simplify to Scale
$0 Never-Ending Clients Course: katarapis.com/neverendingclients
MENTIONED IN THE EPISODE —
EP. 08 The Anti-Procrastination Challenge


LET'S GET SOCIAL —
Cristina Roman, Life Coach for Procrastinating Business Owners
Instagram: @piquecoaching
Facebook: @piquecoaching
TikTok: @piquecoaching
Email: hello@piquecoaching.co
Website: https://www.piquecoaching.co