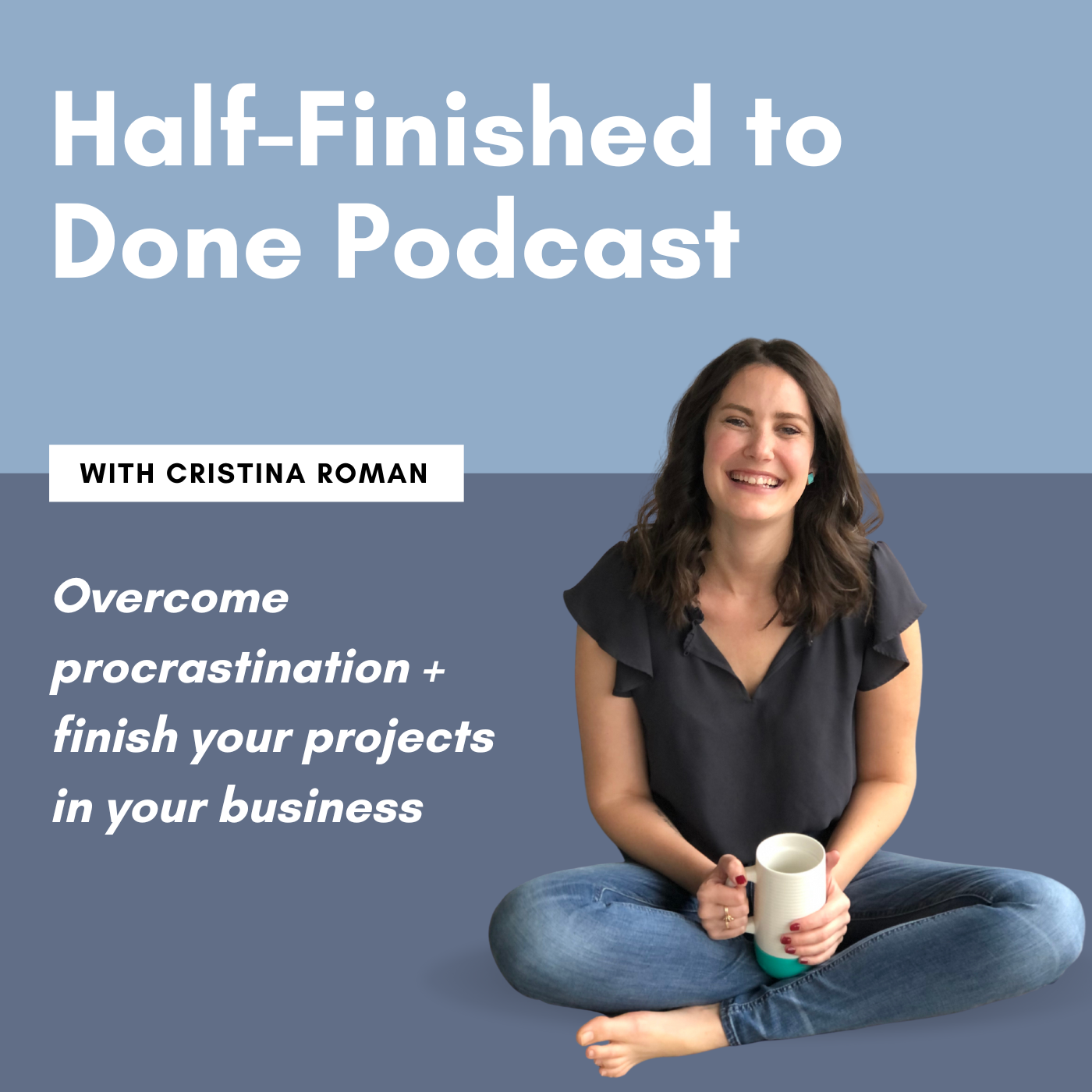 Half-Finished to Done is a podcast for passionate business owners like you, who are ready to stop procrastinating and start creating and finishing extraordinary projects. Join Productivity Coach Cristina Roman weekly as she covers every obstacle—mental, emotional, and logistical—that's keeping you from sustainably, joyfully, and calmly finishing projects in your business. Welcome to your new life as a project finisher!
Episodes
Tuesday Mar 14, 2023
Tuesday Mar 14, 2023
Does content creation feel like a constant source of pressure for you? You're not alone.
As a Productivity Coach, I see business owners procrastinate on their content creation all the time. It's something most business owners want to incorporate into their business, but it often creates so much angst, dread, pressure, and anxiety. 
On this episode, I'm joined by Samantha Hoilett. Samantha is a Launch Copywriter and Messaging Strategist who loves helping her clients understand who they are, what they do, and how to communicate their value through their messaging and copy. 
In this conversation, we discuss how to release the pressure of content creation, and move from tolerating it to actually enjoying it. 
Listen in as we discuss:
Samantha's definitions of messaging, copy, and content 

How to know when you have a content procrastination issue

The specific ways that people suffer when it comes to content creation, and how to change them

Why you're more compelled to create content for your clients than for your own business

Samantha's best thoughts when she sits down to produce content

How to have a content creation process that you love

Practical ways to move from inspiration into action, in order to create content today 
Samantha Hoilett is a Launch Copywriter and Messaging Strategist for personal brands and small businesses. She takes a customer-oriented approach that focuses on building relationships, highlighting brand values, and helping her clients become leaders in their space so they can sell their offers in a clear magnetic way that attracts ideal clients.
GUEST CONTACT — 
Samantha Hoilett, Launch Copywriter + Messaging Strategist
Instagram: @samanthahoilett.writes
Website: https://samanthahoilett.com/
Email Series: Magnetic Messaging Mondays (When you sign up, you get a "Messaging Mini Guide" that helps you brainstorm messaging ideas for your offer.) 
MENTIONED IN THE EPISODE —
EP. 18 Sprinting and Resting Strategy Session with Samantha Hoilett 
How to Get Into a Deep Work State in 15 Minutes ($27)
LET'S GET SOCIAL —
Cristina Roman, Productivity Coach for Business Owners
Instagram: @piquecoaching
Facebook: @piquecoaching
TikTok: @piquecoaching
Email: hello@piquecoaching.co
Website: https://www.piquecoaching.co